In the U.S., cotton is produced in 17 states stretching from Virginia to California. The Trust Protocol has grower members in all 17 of the cotton-producing states, representing 258 counties.
Throughout the 17 cotton-producing states there are a variety of climates, temperature patterns, soils and more that mean there are no universal production techniques for growers. For example, while California experienced a drought in 2020, states such as Tennessee experienced increased rainfall, resulting in delayed harvests. These differences mean that growing practices vary dramatically by region, and there is not a one-size fits all approach to sustainable and responsible agricultural techniques. Trust Protocol growers make decisions based on their own operations, but understand that they can learn from their peers as a means of continually improving their environmental footprint.
89% of Trust Protocol growers utilize precision agriculture technology including GPS receivers, multi-spectral images and ground-based sensors. These technologies gather field-specific parameters including soil conditions, nutrients and water availability. They assess the data to deploy site-specific crop management practices to maximize yields and minimize crop inputs. Real-time weather radar allows growers to avoid activities affected by storms, such as run-off from nutrient and herbicide applications. Yield maps show how areas within fields may need different management.
Click on the icons to learn more.
Shelley Butler Barlow
VIRGINIA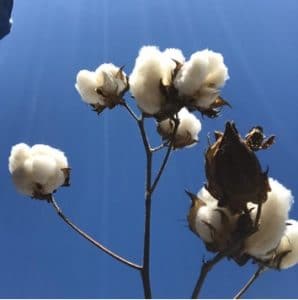 1 of 17
Donny Lassiter
NORTH CAROLINA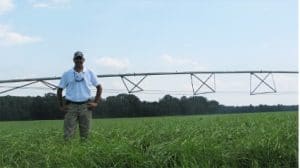 2 of 17
Daniel Baxley
SOUTH CAROLINA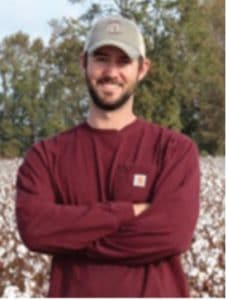 3 of 17
Jimmy Webb
GEORGIA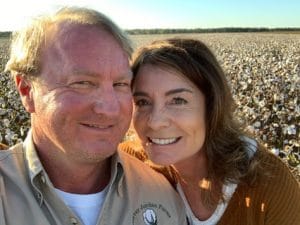 4 of 17
Nick McMichen ALABAMA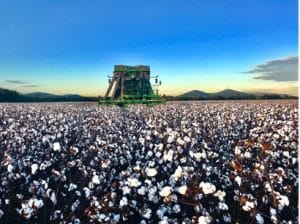 5 of 17
Nick Marshall
FLORIDA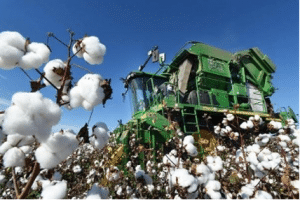 6 of 17
John Lindamood
TENNESEE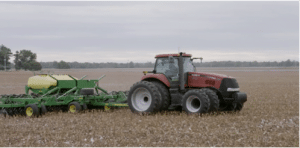 7 of 17
Sledge Taylor
MISSISSIPPI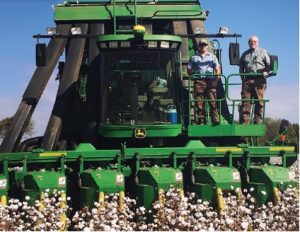 8 of 17
Laura Collins
MISSOURI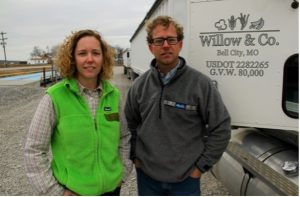 9 of 17
Nathan Reed
ARKANSAS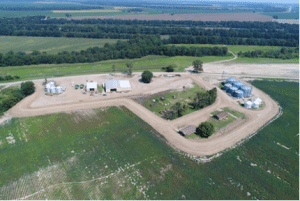 10 of 17
Ted Schneider
LOUISIANA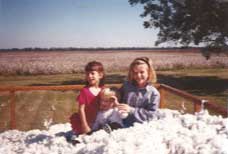 11 of 17
Debra Barrett
TEXAS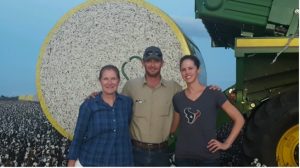 12 of 17
Clint Abernathy
OKLAHOMA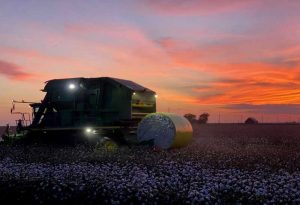 13 of 17
Kent Dunn
KANSAS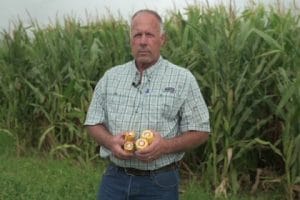 14 of 17
Jerry, Nancy, Dean, Amy, Cory and Kevin Calvani, Calvani Farms
NEW MEXICO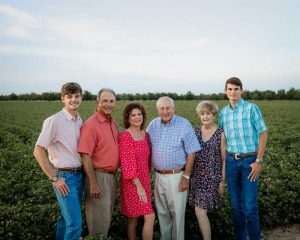 15 of 17
Adam Hatley
ARIZONA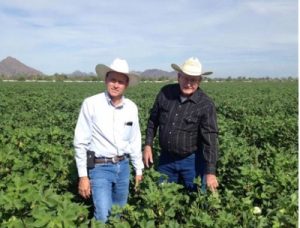 16 of 17
Aaron Barcellos
CALIFORNIA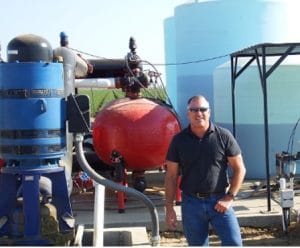 17 of 17
Sustainability Metrics with Trust Protocol Growers
Listen in as six Trust Protocol growers talk about the key sustainability metrics the program tracks: water use, energy efficiency, land use, soil carbon, soil conservation and greenhouse gas emissions. Each grower will share the practices they use to continuously improve their environmental footprint.
Trust Protocol Grower Member Kellon Lee on Soil Loss
Trust Protocol Grower Member Aaron Barcellos on Water Use
Trust Protocol Grower Members Ronnie and Neil Lee on Land Use
Trust Protocol Grower Member Adam Hatley on Greenhouse Gas Emissions
Trust Protocol Grower Member Dahlen Hancock on Soil Carbon
Trust Protocol Grower Member Brad Williams on Energy Use
"Being able to sit down at the same table with consumers, brands and retailers, and have these conversations about sustainability is pretty neat. The U.S. Cotton Trust Protocol has brough a lot of enthusiasm to the cotton industry in the United States. It's [is] going to be what drives the United States cotton crop for the next generation."
"I want the customer to have a positive experience. We want [consumers] to know that [U.S. cotton] is responsibly grown and that there is a verification process behind the data that shows that. With the U.S. Cotton Trust Protocol, we are able to have that assurance and feel good knowing that personal touch from a U.S. cotton grower."
"The farm we operate has been in the family for 125 years. I have two grandchildren and have high hopes that they could make seven generations farming in south Texas. I am very excited to share with marketers and retailers the story behind our cotton."
The Cotton Trust Protocol information is just in its beginning stages, but with where they're at today, and where they're planning on going, I think [the Trust Protocol is] going to be a very beneficial tool to us growers. I think especially regionally. The way I farm out in California is completely different from the way they farm in Arkansas. We've got different challenges and issues to address, but to get the things that are comparable and see how we stack up across the country with farmers in their own growing region, I think it's going to be a great tool for us as we go forward."
"I want people to recognize the enormous impact agriculture has on a state's landscape, culture and economy. Farmers need to learn to be comfortable with and value their own contributions, however large or small their operations."
Seeding, Planting and Harvesting
Listen in as Trust Protocol grower John Lindamood (TN) talks about the cotton production process. John will take you through seeding, planting and harvesting of cotton crops.
Regenerative Agriculture and Biodiversity
Regenerative agriculture describes farming practices that can reverse climate change by rebuilding soil organic matter and restoring soil biodiversity – resulting in both carbon drawdown and improving the water cycle. It looks at the combination of practices that support resilience as well as builds and nourishes the ecosystem in a holistic manner.
5 Major Principles of Regenerative Agriculture
The Trust Protocol's recommended practices for grower members reflect core principles of regenerative agriculture. The program focuses on practices that minimize soil disturbance and loss, maintain living roots year-round, keep the soil covered, and maximize crop diversity. Farmers can also integrate livestock where feasible.
More than 55% of Trust Protocol acres were planted with cover crops, which encourage food security and reduce atmospheric carbon
Continuous reduced or no-till production increases the amount of soil organic matter near the soil surface and in 2021/22, more than half of reported acres practiced no-till and 30% practiced reduced tillage
70% of Trust Protocol reported acreage practiced crop rotation in 2021/22, which maximizes biodiversity by increases soil organic matter, decreasing greenhouse gas emissions, and producing healthier soil
70% of Trust Protocol reported acreage practiced integrated pest management (IPM), which is a science-based approach that strategizes tools and techniques to identify and manage pests
The U.S. Cotton Trust Protocol was featured in EARTH with John Holden at the end of 2021. The segment details sustainable cotton production in the U.S. and demonstrates how the Trust Protocol brings quantifiable and verifiable goals and measurement to sustainable cotton production.
The Trust Protocol's vision is to set a new standard in sustainable cotton production where full transparency is a reality and continuous improvement to improve our environmental footprint is the central goal. Regenerative agriculture aims for net positives, and calls for growers to continually improve their practices and techniques. Practices such as conservation tillage and cover crops aid soil health and increase soil carbon levels.
Regenerative agriculture builds upon the positive environmental impacts of sustainable practices, aiming for a whole systems approach to bio-sequestration, biodiversity, ecotoxicity, climate resilience, water systems, micronutrients, and ecosystem services.